Develop your skills through regular training. 170 hours of training were provided in 2022.
At Auray Plast, we believe that the richness of a team lies in its diversity and its ability to share.
Contribute to the design of innovative, ecodesigned parts in an economically and environmentally responsible logic.
An ideal life-style environment between land and sea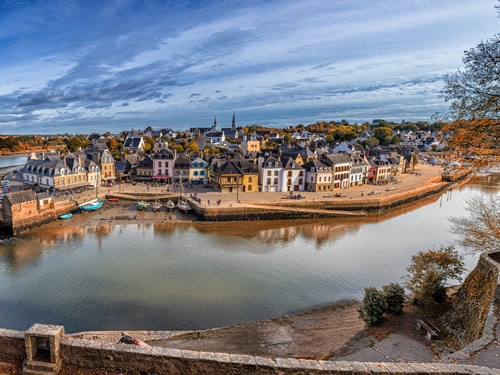 When we talk about Brittany, we set the scene: endless sandy beaches, with tides that never seem to stop coming and going (that's the idea!), the most beautiful waves on the Atlantic coast (modestly speaking), oysters enjoyed with a glass of chilled white wine followed by a salty caramel butter crepe (because the Bretons like to balance their meals), and cities like Rennes to remind us of the joys of civilization!
When we then talk about Morbihan, we dream of sailing between the islands of its Golf, we  enjoy beautiful coastal paths to stretch our legs, and we order a galette with Guéméné andouille sausage (because we have had enough of salty caramel butter!).
Finally, when we arrive in Auray, we have the ocean and the Ria d'Etel (blue seas, seagulls, and authentic little ports), medieval Vannes on one side and Lorient with its Interceltic Festival on the other, and for those who prefer greenery, farmhouses covered with hydrangeas. On the port of St Goustan, since there is still a little space left, we can enjoy a local pastry (kouignamann) while listening to the bagpipes (yes, it's possible!).
Auray Plast is hiring, discover the offers!
At Auray Plast, we regularly have recruitment needs, either to cope with peaks in activity or to strengthen our teams in a sustainable way. We ensure the best possible integration so that new arrivals quickly feel comfortable and operational. A group of experienced employees structures this process to offer the best welcome and guarantee an excellent level of training for the new collaborator. We also welcome around ten interns every year in various fields: maintenance, design office, injection, primary internships.
A collaborative film made in Auray Plast
What happens when the employees leave the workshop? Auray Plast employees wrote the script and lent their voices to make this animated film. Sign language translation was provided by Auray Plast employee Didier. A convivial moment around an original project.
Discover Auray Plast as seen by its employees
Discover Auray Plast from the inside, thanks to the testimonials of its employees. Watch out, you'll know everything!
Discover Jean-Baptiste Crouan's question box
Discover Auray Plast from an original angle, with a Q&A with Managing Director Jean Baptiste Crouan. This interview introduces you to the company, its values, its projects, its know-how and its ambitions!
Auray Plast equality index
The Equality Index has been designed as a simple, practical tool for advancing equality between women and men within the company.
It measures gaps in pay and status between women and men. It highlights areas for improvement when these disparities are unjustified.
The Gender Equality Index is calculated on 100 points, and comprises 4 indicators for companies with 50 to 250 employees:
The gender pay gap,
Individual pay rise distribution gap,
The promotion distribution gap (only in companies with more than 250 employees),
The number of female employees receiving a raise after returning from maternity leave,
Parity among the 10 highest earners.
At Auray Plast, the gender equality index is 91/100, broken down by indicator as follows:
Pay gap indicator: 37
Difference in rate of individual increases: 35
Return from maternity leave indicator: not calculable
High pay indicator: 5
 
In the event of an Index of less than 85 points, companies must set and publish improvement targets for each indicator.
If the Index falls below 75 points, companies must publish their corrective measures.