A partner for your projects in the design and injection of thermoplastic parts.
Located in Auray, we have been providing our expertise and know-how since 1974 in the field of technical plastic injection. We have a modern fleet consisting of over 20 electric presses ranging from 30 to 350 tons. Certified ISO 9001, ISO 14001, ISO 45001, and ISO 50001, we are committed on a daily basis to a process of continuous improvement regarding quality, environment, workplace safety, and energy consumption.
Studies & design: the design office is composed of a team of 5 engineers and technicians who will accompany you at every stage of the project: optimization, rheology, and industrialization. In close partnership with our material suppliers and injection moulding networks, we can advise you on how to achieve your specifications.
Injection & Quality: our fleet is mainly composed of modern electric presses for accuracy during injection. Our approach to quality is paramount, we are equipped with a characterization laboratory and metrology equipment to ensure product compliance.
Million parts produced per year
% of revenue from international markets
360° support for your project
To support you during your projects, Auray Plast counts on its industrial processes and the diversity of its skilled teams.
Ecodesign to limit environmental impact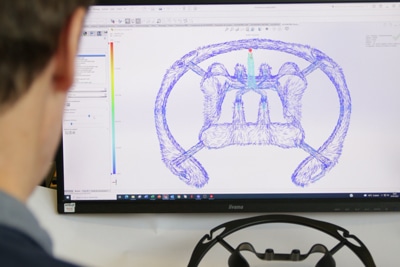 Designing products while considering their environmental impacts has become an essential issue. Our motto: recycle, reuse, reduce, and optimize.
4 ISO certifications for quality
Auray Plast has a quadruple certification in quality, safety, environment and energy to guarantee product compliance.